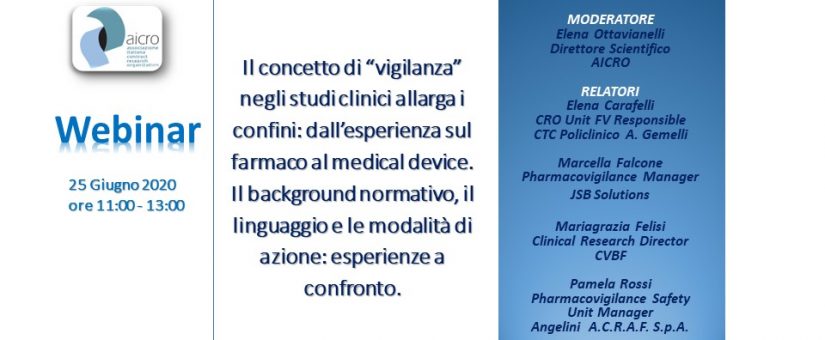 Posted by admin
On 22 May 2020
0 Comments
from drug experience to medical device.
The normative background, language and modes of action: comparing experiences
An interactive seminar, albeit in webinar mode, during which we will go through the requirements of pharmacovigilance in clinical trials in brief pills, and then hook the imminent need to adapt the activity of "vigilance" also to the medical device. The speakers will refer to the current regulations, and then share with the participants direct experiences and offer a multi-faceted panorama faced by different actors: the CRO, the Sponsor, the CTC in support of independent research.
Chairman:
Elena Ottavianelli – Scientific Director AICRO, Business Development Manager Fullcro S.r.l.
Speakers:
– Mariagrazia Felisi – Clinical Research Director CVBF
– Elena Carafelli – CRO Unit FV Responsible CTC Fondazione Policlinico Universitario A. Gemelli
– Pamela Rossi – Pharmacovigilance Safety Unit Manager Angelini A.C.R.A.F. S.p.A.
– Marcella Falcone – Pharmacovigilance Manager JSB Solutions S.r.l.
Target Audience:
Training and updating for professionals working in the field of clinical research, in particular Senior CRAs, Clinical Team Leaders, Lead CRAs and Clinical Project Managers, researchers in general. Particularly useful also for those who will manage external suppliers in the field of "Vigilance" for clinical trials.
Timetable: 11:00 – 13:00
The registration fee is per person:
€ 60,00, for associated companies AICRO, EUCROF, Assomonitor, SIMEF and to employees of public facilities (with receipt and without application of VAT);
€ 80,00 + 22% VAT, for the external participants.
FOR EVERYONE:
Nr. 1 free every 2 (two) paying participants
The fee includes: the teaching, the didactic documentation at the end of the seminar and the use of the platform.